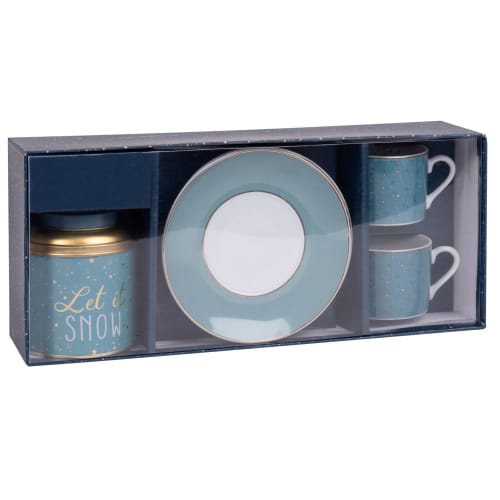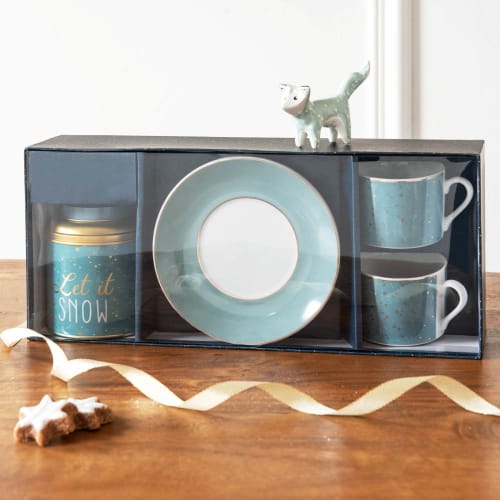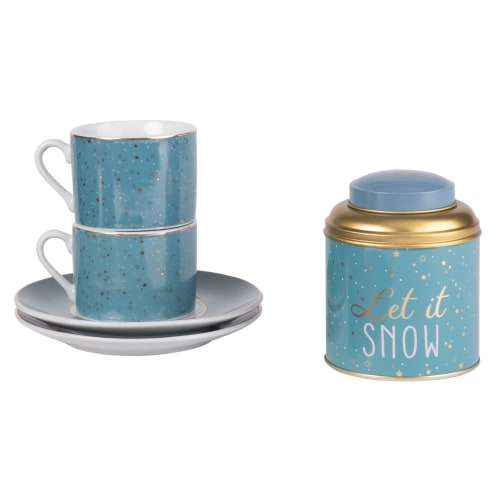 LET IT SNOW Tea Gift Set
In stock
Give yourself a well-deserved rest with the LET IT SNOW tea gift set. On the menu, we have 2 cups and 2 saucers in blue porcelain with a gold star print, alongside a box of Darjeeling tea. A subtle tea with fruity, aromatic notes, it's both relaxing and comforting. A lovely gift idea for the holiday season! Did you know...? Maisons du Monde offers teas blends made by Compagnie Coloniale.
Preparation tips: Every tea is different and to appreciate all their flavours, the temperature and infusion time really make a difference!

We recommend infusing our green tea selection between 80-90°C. This will preserve the taste, benefits and flavours of the tea, to ensure you really savour it!

As for how to prepare it, tea needs time - but not too much - to release its flavours. To really tickle your taste buds, Maisons du Monde recommends an infusion time of 3-4 minutes.

So settle down comfortably and savour these sweet, exotic flavours...
Product
Ref.: 186729
Weight (kg): 0.03
Not microwave save
Main material: Porcelain
Dishwasher proof Yes
For use with food: yes
2 sections to be assembled
Additional information
Ingredients : 100% tea (Protected Geographical Indication)

May contain: traces of sulphites, celery, nuts and milk.

Net weight: 50g /1,76 oz

Keep in a dry and cool place.

Tea from India.
Product packed in France.

Best before : 08/2021
Batch no: 300902